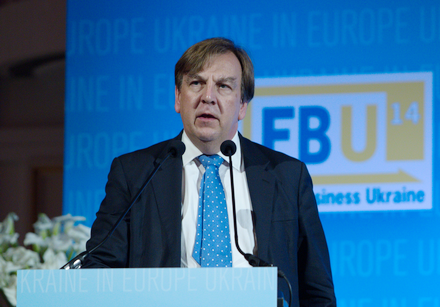 On 1 October 2014, Lord Risby and John Whittingdale took part in the 'Ukraine and Europe: Peace and Development' roundtable organised in Vienna by the German-Ukraine Forum.
They joined more than 150 other influential politicians and experts from Germany, Austria, Ukraine, the UK and France in discussing the ways of resolving the current crisis in Ukraine. Chairman of the British Ukrainian Society, Lord Risby, moderated a panel discussion which also included the BUS Director John Whittingdale as a panel speaker.
Lord Risby noted that, despite many difficulties which lie ahead for Ukraine in the next few weeks, the upcoming elections will be a watershed in the life of the country. "With a new Parliament, the European track, and the other things that will flow from it, I hope and believe this will be a new beginning."
With the continuing military conflict in the East of Ukraine, Mr Whittingdale began with expressing his admiration for the courage of the people of Ukraine and his complete support against absolutely unacceptable aggression.